Description
Same popular design as the original but 10% smaller to fit narrow faces.
This variant of the Gateway™ mini StarLite™ safety glasses feature an attractive Indoor Outdoor Lens.
These glasses are based off of the standard StarLite model. However, the mini glasses are different because they're 10 percent smaller. The size reduction allows these products to fit narrow faces. Since these glasses are low cost and lightweight, they're some of the best products that we carry.

Although they're very stylish, they're also very protective and deliver the impact protection that you need to stay safe. The Gateway mini StarLite™ glasses feature a compact, sleek design and offer rugged durability. The frame provides a snug fit, and with a wraparound design, these safety glasses provide excellent impact protection around your eyes.

The design is revolutionary, and in fact, it's frequently imitated by competing products. If you're looking for some of the best safety glasses available, the Gateway mini StarLite™ products have everything that you need.

With a lens made of polycarbonate material, these glasses are able to filter nearly 100 percent of damaging UV rays. The special hard coat also protects against scratches. A tight fit keeps these glasses secured to your face, so you don't have to worry about slippage.
Provides superior all-around protection

Lightweight and durable

Great for men and women

Keeps workers compliant

Delivers a snug, universal fit

Popular design resembles sunglasses; men and women love the style, helping to ensure worker compliance...

Economically priced to fit any budget...

Revolutionary dual 9.75 base curvature viewing areas in an integral unitary lens offers wide unobstructed vision..

Snug and comfortable universal fit protective eyewear. Tight fit helps minimize slippage and provides full brow protection...

Deep, universal-fit temples provide side protection equal to that of eyewear with large sideshields...

Scratch-resistant, hardcoated 100% polycarbonate lens filter out more than 99.99% of harmful UV-A and UV-B light...

Meets ANSI Z87.1 Safety Standards...
SKU ~ 360M
Gateway
MINI Starlite
Safety Glasses
Indoor Outdoor Lens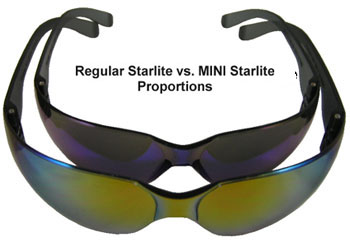 OTHER DETAILS
UPC:
662302360079
Product UPC/EAN:
662302360079
Reviews (0)
Write a Review
Write a Review
Gateway
Gateway Mini Starlite Safety Glasses w/ Indoor Outdoor Lens