MSA Hard Hats for Safety, Style, Comfort, and Convenience
Jul 16th 2018
At Texas America Safety Company, a hard hat isn't just a hard hat. Hard hats are companions and an expression of one's identity as well as a barrier against head injuries. To fit most every need, the Texas America Safety Company offers a wide variety of MSA hard hat models, styles, colors, motifs, logos, patterns, and accessories to make workers safe while comfortably standing out in the crowd.
Models, Styles, and Suspension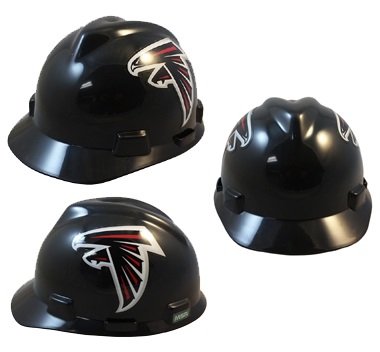 When one thinks of models, style, and suspension, cars and trucks usually come to mind. In no small way, these attributes apply to hard hats too. In terms of models, there are the popular lines of MSA V-Gard, MSA Advance Vented, and MSA Topgard hard hats that can pretty much take anything that can be thrown at them.
In terms of style, there are two main choices: the age-old full brim and the more contemporary cap-style. Variations in the styles include vents, ridges, and built-in additions to accommodate accessories. There is even an MSA Environmentally Green hard hat option available for the environmentally conscious worker.
The suspension comes into play to get the model and style of the hard hat of choice comfortably affixed to one's head. Fas-Trac, Staz-On, and standard ratcheting suspensions are offered to provide that perfect tweaking ability to fit any worker's head. These suspension options are interchangeable and can be transferred from hat to hat.
Colors for Every Hard Hat Occasion
Whether it's company colors, trade colors, or simply personal choice, Texas America Safety Company stocks virtually every color under the sun. Of course, there is the standard white and safety yellow colors but also a wide assortment including colors that are very hard to find. To name a few there are black, blue, gray, orange, hi-viz orange, silver, and more. There are colors more associated with metals such as gunmetal and gold. For the fashion-conscience female, there is even pink and an assortment of pastel colors.
Hard Hats: Motifs in Motion
If the wide selection of colors isn't enough, there is a wide range of motifs including those for NFL fans, American patriots, bikers, hunters and more. For NFL fans, there is a hard hat for every team including the Dallas Cowboys, Oakland Raiders, Denver Broncos, Pittsburgh Steelers, Green Bay Packers and more. They include the team logo on each side and they are tastefully arranged in team colors including colorful stripes. For the patriotic worker, there is an assortment of flag patterns all in majestic red, white, and blue. Bikers can choose from a variety of skulls, Maltese Crosses, and flame patterns. For the hunters in the workforce, there are far too many camo patterns to mention. It suffices to say that any hunter would be satisfied with the selection.
The Sky's the Limit on Hydro Dipped Hard Hats
As if the large selection of colors and motifs isn't enough, there is a wide variety of "Hydro Dipped" patterns as well. Hydro dipped, also known as "water transfer printing," is a design that covers the entire shell of the hat. Each is a custom creation and one-of-a-kind. The designs are permanent and come with a glossy clear coat to keep them looking new forever.
With hydro dipping the sky's the limit on what patterns can be created. Current patterns include Army Men Green Camo, American Biker, American Camo Orange, American Flag Camo, Bad Bones, Beer Cans, Burning Flames with Large Skulls, Carbon Fiber, Digital Camo, Graffiti and, way too many to mention. There is even a Cancer Awareness Pink and others promoting cancer awareness. There are so many patterns available through the Hydro Dipping process that it truly boggles the mind.
Personalization, Customization, and Safety
The hard hat customization process doesn't end with the selection of the shell's style, motif, color, and pattern. Name decals, additional logos, and accessories can be added to further personalize the design as well as improve its safety. This can be achieved with a variety of add-on customizations including reflective decals and identification labels. Like the plethora of color and style offerings, the ability to add personal touches is seemingly endless.
Safety Features
Safety comes first and hard hats are no exception. While addressing such standards as ANSI/ISEA Z89.1-2014 and CSA Z94.1-2005 is fundamental, accessories can augment one's safety in very important ways. Protection for the eyes, neck, chin, and exposure to weather conditions can be customized to fit individual needs.
There is a wide variety of face shields for added eye protection from harsh glare or flying debris. For hearing protection, there is a variety of earmuff attachments to keep them handy when needed. These earmuff attachments are also extendable to keep them out of the way when they are not needed.
The back of the neck can be a vulnerable spot. Different neck shields are offered to keep the neck protected and free from falling debris. The weather can be a huge factor and, whether it's hot or cold, there are many hard hat accessories to make the worker more comfortable. For hot days, there are Miracool Bandanas, neck shades, hard hat shades, neck cooling wraps, and sweatbands that help get workers through a long hot day. For the frosty side of weather, many hard hat accessories are available such as hard hat liners. Warm and toasty hard hat liners make those brutally cold days bearable with a wide selection of available styles, colors, and textures.
There are also many safety-enhancing and timesaving hard hat attachments that can make life easier and safer at the same time. These attachments include safety lights, goggle retainers, pencil clips, and reflective decals. Safety lights provide illumination in low-light conditions that follow the field of view where the light is needed most. Other safety lights serve as location beacons that let other workers know you are there. Goggle retainers provide a handy strap that can be moved to place the goggles over the eyes or to rest them on the brim when not needed. Pencil clips are similarly handy to keep one's writing instrument accessible when needed as an attachment on the hard hat itself. Another time-proved accessory is reflective decals that provide a lot of bang for the buck in terms of offering safety in nighttime working conditions.
The Texas America Safety Company is dedicated to providing the ultimate source for MSA hard hats. While safety is the top consideration, the customization and available accessories can make our outstanding MSA hard hats even greater.