ERB Hard Hats and Safety Gear
Jul 13th 2018
One of the more important aspects of working with building safety is to acquire the proper safety gear. ERB Hard Hats fit the bill in all respects regardless of your work environment. Their certifications and complete line of accessories to support them make it possible for firms to standardize around their gear and upgrade - or re-order as they go along.
ERB Started with Filling a Need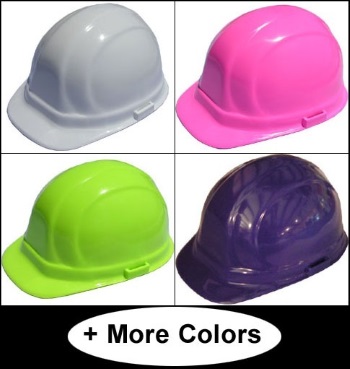 Back in 1956, there weren't as many regulations with regards to safe work environments. One thing that companies had figured out, however, was that people that had protective headgear could usually continue to work in hazardous conditions for longer without experiencing the types of safety incidents that cost them a salary and the company productive hours. Around that time, a group of people that wanted to create the best type of hard hat around formed ERB and continued to improve it through the years.
Today, ERB is successful and well regarded in both the field of design and sales. Woman-owned, it has also been at the forefront of positive change in the safety garment industry.
For over 45 years, ERB hard hats have been exceeding industry norms when it comes to safety and durability. Aside from hard hats, ERB manufactures a wide range of safety equipment distributed through TASCO.
Safety Pre-Training is Where It Starts
Although there are a multitude of hat types available from ERB, one of the more popular hats that families look at is the children's line. These hard hats that are not rated for industrial safety, but get kids into the habit of learning how to wear hard hats so that they can incorporate engineering and construction into their playtime in a realistic fashion. As they grow older, putting on safety equipment and understanding the difference between the levels of quality available can give them an advantage as they transition into the work arena.
Hard Hat Considerations
If you are looking at selecting a hard hat type for your firm, there are choices to make when it comes to certification and webbing style. Perhaps the key thing to remember is that if you know the dangers of your environment, you will always be able to find an ERB hat that matches what you are looking for.
An example of this is if you work in the steel industry in temperature extremes. Because ERB offers special hard hats that perform and are rated to remain safe in all types of temperature environments, finding that particular model is all that you will need to do in order to ensure that your workers get the equipment that they need.
Webbing can also be important from a fashion and accessory point of view. One tip is to find out what people feel is the most comfortable and functional type of webbing in your industry before making your decision. It is also helpful to look at the types of accessories that you can and cannot add to each style of hat. Hairnets and cloth that covers the worker to the neck are good examples of the type of accessory that can be added in work environments like the food industry that require it.
Know Your Factory Floor
Another design consideration that many companies use in order to organize workers is to color code the hats by type of position. Supervisors might have blue hats while your line people may have yellow.
As we live in a modern world, some firms have chosen to give line or construction workers white hats that used to be associated with management in order to show that color doesn't have to mean any one thing.
Labels Make the Worker
If you would like to get detailed, working with 360-degree wrap-around labels is a very good way of identifying job role or personalizing a work hat. Because the labels are removable and last for a long time, it is possible to use a standardized store of hats and provide workers with labels for them or to issue both on a personalized level.
Eye-Wear and Chin-Wear Accessories
In many factories, workers will wear safety goggles or their own prescription eyewear in order to keep their eyes safe while they are working. ERB offers a full line of eye clips for each type of hard hat that is available so that you can choose a color-coordinated set that will lock the eyewear to the hat and not let it drop or fall when the employee has their head facing down. This type of accessory helps keep production lines clear of foreign objects and makes it easier for workers to focus on the job at hand instead of having to constantly try and adjust the eye gear that they are wearing.
Chin guards are other popular accessories that serve a dual purpose. They affix the hard hat to a worker's head so that they will not have to worry about the hat coming off if they are accelerating on a forklift or slip and fall.
Adding Safety Vests
There are many different color combinations that you can choose from when you add safety vests to your ERB hard hat setup. Some companies choose to go with brilliant colors that offset the hat so that workers will be as visible as possible on the work site. There are also options available in darker colors with fluorescent piping that make it possible to see the outline of the worker at night without throwing out a complete glare. Tests have shown that using that type of combination can actually increase other workers' awareness of employees that are out on the floor working.
ERB hard hats are one of the most used pieces of safety equipment on the market and a very popular brand. If you have any questions or would like to know about volume orders, please contact us so that we can help you fill your order.