2018 Guide to Hard Hats
Aug 6th 2018
When it comes to construction, there will always be one piece of equipment that symbolizes safety - the hard hat. At Texas American Safety Company (T.A.S.C.O.), we take a great deal of pride in supplying our customers with a wide range of hard hats for any situation.
The T.A.S.C.O. Guide to Hard Hats
Aluminum Hard Hats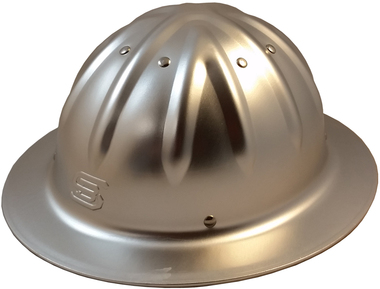 Aluminum hard hats are one of the more popular hard hats and are used often in the forestry industry. All of our aluminum hats meet ANSI regulations. Our hats come in multiple colors and we have ratchet suspension options available.
Our most popular aluminum hard hat is the Skull Bucket. This is a full brim aluminum hat and it comes in a variety of colors. Our customers have no trouble finding the aluminum hat that fits perfectly with their needs. We even offer custom reflective strips and decals for extra safety and for branding purposes.
Cap Style Hard Hats
Another type of hard hat that is very popular these days is the cap style hard hat. We carry a vast selection of cap style hard hats, so finding the one you need will never be a problem. We carry all major brands from Pyramex to MSA and everyone in between. We have a massive selection of different colors available as well. Our customers have the option of choosing ratchet, pin-lock, and Fas-Trac suspensions. These cap style hard hats also come in Super V Guard and SmoothDome styles, and can be slotted or unslotted.
One of the most important categories when it comes to safety standards, are items that have been certified by the CSA. CSA stands for the Canadian Standards Association. Thanks to the CSA, there are high levels of standards given to construction equipment around the world.
At Texas America Safety Company, we pride ourselves in being a company that stocks a large range of CSA certified equipment, and the number of items is growing every day. Canadian customers can rest assured, that all of the equipment they get from T.A.S.C.O. is safe, effective, and certified.
Hard Hat Face Shield Kits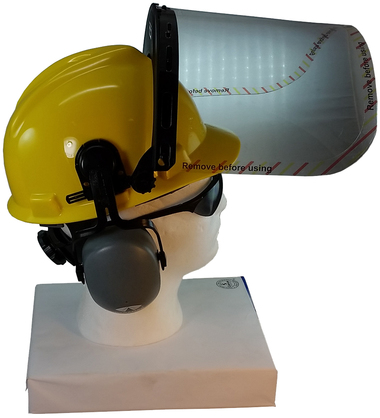 What happens when hard hats aren't enough? Texas America Safety Company is well aware that protecting your head is vital, but it's not the only part of your body that needs protecting. When a job calls for sawing, grinding, or other machine work, there are many other parts of the face that are exposed to danger. That's why we offer complete Hard Hat Face Shield Kits. This kit is a complete head, face, ears, chin, and eyes protection kit that will completely protect you from the neck up. This kit comes with a hard hat, a face shield, ear muffs, a chin strap, and a pair of safety goggles.
Oftentimes a job requires high heat. Sometimes when it comes to projects like shipbuilding, construction and other projects that require welding, temperatures can get very high. In these situations, it is important that a worker have a hard hat that can withstand massive amounts of heat.
At Texas America Safety Company, we offer MSA Thermalgard hard hats, as well as MSA Skullgard hats. These hard hats are made from fiberglass and will withstand temperatures well over 350 degrees Fahrenheit. They are available in a variety of colors, and have STAZ and Fas-Trac options available to provide a secure fit every time.
Full Brim Hard Hats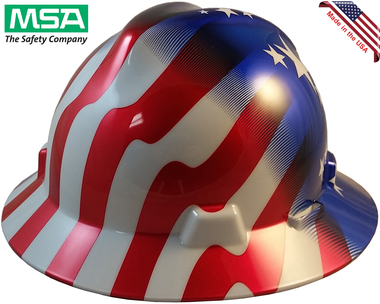 One of the top hats on the market right now are our full brim hard hats. Full brim hard hats are a unique type of hard hat in that they provide a much larger brim to protect the worker from climate elements such as too much sun exposure. This can become essential in situations where workers are up high and the sun is bearing down on them. Thanks to the full extension of a brim that goes all the way around the hat, the worker is protected and can last longer with sustaining any damage to their skin.
T.A.S.C.O. provides a very wide selection of full brim hard hats, including our MSA Skullgard full brim hat, as well as MSA Topgard and V-Gard hats. We also stock many different styles from ERB.
Because not all work is construction work, we also carry caps that can protect your head, but do not meet the strict guidelines set by the ANSI. These bump caps are great for food processing plants and automotive facilities. They will provide safety to the worker from bumps and cuts, but do not provide the same level of impact protection that would be needed on a more heavy-duty work-site.
We offer many different styles of bump caps, including ERB Economy bump caps in different colors and Occunomix soft bump caps. We also have a large stock of bump cap accessories including liners and inserts to make them more comfortable, and decals, stickers, and reflectors to make them safer and to brand label them.
Reversible Hard Hats
One commonly overlooked quality in a hard hat is the ability to flip it around. Sometimes a worker needs to get in close on a project but still needs to protect their head. What better way to fix this problem than with a hard hat that can be flipped around?
Texas America Safety Company has many different hard hats that are completely reversible and available in a variety of colors. Many of our reversible hard hats have a swing suspension, allowing the hat to be flipped around without even having to remove it. This saves a lot of time and over the course of a full day of work, can save a lot of energy and manpower as well. They also provide amazing heat protection due to being made from fiberglass.
Type II Hard Hats
Type II hard hats are somewhat heavier and larger due to having more padding than regular hard hats. For this reason, they are recommended in industries that have moving parts above people's heads. Texas America Safety Company carries both the MSA Vanguard Type II style as well as the Super V Canada type II style hat. There are cap styles and full brim style options available from ERB industries for Type II hard hats as well. Our stock of Type II hard hats is large and we have many different colors available.