Description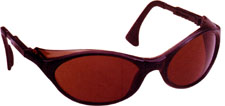 The UVEX™ Bandit safety glasses have a black frame and espresso lens. They feature a sporty design and use an easy lens replacement system. Duoflex temples give you the perfect fit, so you never have to worry about these glasses slipping off of your face. Most people know that ultraviolet rays can damage the eyes, so it's important to wear glasses that protect against UV rays.
Fortunately, the UVEX™ Bandit safety glasses offer 99.9 percent protection against ultraviolet rays. However, the espresso lens is what really sets these glasses apart from many of the other products that we carry. Many modern work environments expose workers to visible flare and ultraviolet light.
Some examples of workers who must endure these conditions are roofers, pilots, lifeguards, construction workers, masons, groundskeepers and gardeners. Individuals who have any type of retinal disorder are even more vulnerable to intense sunlight and UV radiation.
The espresso lens tint on the UVEX™ Bandit safety glasses is perfect for outdoor work environments because it lets only 15 percent of visible light through to your eyes. The espresso lens also absorbs almost all UVA and UVB rays, which gives you even more overall protection.
Sporty design is great for anyone

Easy lens replacement system is patented and very useful

Espresso lens works flawlessly in outdoor environments

Great fit with adjustable duoflex® temples

Provides>99.9% UV Protection

Meets Z87.1-1989 ANSI safety regulations
SKU ~ S1601
Uvex Bandit Safety Glasses
Black Frame ~ Amber Lens

OTHER DETAILS
UPC:
603390047350
Product UPC/EAN:
603390047350
Review (1)
Write a Review
Write a Review
Uvex
Uvex Bandit Safety Glasses w/ Espresso Lens
Great protective sunglasses

Been using these for over 15 years. Lightweight and easy to clean.