Description

Top Grain Cowhide Gloves
With Gauntlet Cuff
Size Medium
Here are some more of our top grain cowhide gloves. For enhanced safety, they feature a gauntlet cuff. The palm is made of premium top-grain cowhide leather, so it's great for tough work environments. Each glove has a natural white canvas back, so you get hand protection for general applications.

With a 4.5-inch rubberized gauntlet cuff on each glove, these gloves deliver more protection than many of the alternatives. Since they're made with a leather pull tab, they're easy to put on and remove. The cotton hem on each glove is color coded, and the canvas back delivers superior protection.

There is reinforced leather on the fingertips, index finger and knuckles. A wing thumb improves the overall design and lets you do more. We recommend these gloves for masonry, agriculture, railroad work and road construction.

However, they're also useful for woodworking, iron and warehouse work. These heavy-duty gloves serve as reliable hand protection, and they help to reduce the risk of hand injuries while on the job.
Features and Notes
Premium top-grain cowhide leather used for the palm

Natural white canvas back

Great for general applications

4.5-inch rubberized gauntlet cuffs for extra protection

Features pull tab and winged thumb

Recommended for railroad work, masonry and woodworking

Notes:

Usually ships in 1 -2 days from Ohio.
Prices shown are per dozen.
Applications:
Masonry

Agriculture

Iron/Steel Work

Warehouse

Woodworking

Road Construction

Railroad Work
SKU ~ 8000w-MED
Top Grain Cowhide Gloves
With Gauntlet Cuff
(Sold by the Dozen)
Size Medium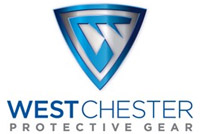 OTHER DETAILS
UPC:
662909800015
Product UPC/EAN:
662909800015
Reviews (0)
Write a Review
Write a Review
Westchester
Top Grain Cowhide w/ Gauntlet Cuff Gloves (Sold by Dozen) Size Medium