Description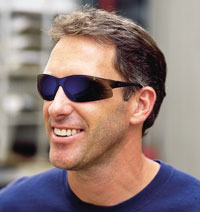 If impact protection is very important to you, then consider our Super ERB™ safety glasses. They feature a stylish blue frame and smoke lens. Worker compliance is very important because a lack of compliance can lead to costly fines. The Super ERB™ safety glasses are great because they guarantee worker compliance.
The frames are made of durable, lightweight polycarbonate materials, and the wraparound design delivers a snug fit, which many other products don't deliver. If you frequently work outdoors, then you'll want to consider these safety glasses because they'll protect your eyes against 99.9 percent of ultraviolet rays.
The problem with UV rays is that they're known to cause problems with the eyes. Frequent, prolonged exposure to UV rays can cause cancers to develop in the eyes, and it can lead to a wide range of vision problems, which is why UV protection is very important.
These glasses feature a 9.5 base spherical polycarbonate lens, so you can trust that they'll withstand the conditions that are present in most work environments. These glasses also meet the important Z87.1 ANSI safety standards..
9.75 base spherical polycarbonate lens for superior performance

Protects your eyes against harmful UV rays

Wraparound design delivers a snug fit

Lightweight polycarbonate frame keeps workers compliant

Ultra-cool and ultra-lightweight polycarbonate frames ensure worker acceptance...

Wraparound design fits snugly for total optical protection...

Lens offers 99.9%UV protection

Meets the requirements of ANSI Z87.1
SKU ~ 16506
Super ERB
Safety Glasses
Blue Mirror Lens

OTHER DETAILS
UPC:
720609165060
Product UPC/EAN:
720609165060
Review (1)
Write a Review
Write a Review
ERB
ERB Super ERB Safety Glasses w/ Blue Mirror Lens
These are great l've used these for 10 years but after awhile the screw comes out of ear piece and separates from glasses , crystal clear on being able to see