Description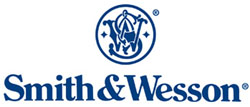 The Smith and Wesson™ Magnum Elite® safety glasses offer superior eye protection. To give you true color perception, this variant is made with
Infinity Blue (Teal) Lenses.
Infinity blue is commonly used in indoor applications where there is an excessive amount of yellow or sodium vapor light, offers a high level of contrast.

The frame is constructed of a strong material. There are several features that make these glasses top products.
They have a matte platinum finish frame, which looks stylish in any environment. Since they carry the Smith and Wesson™ name, you can trust that they're made from high-quality materials. Made of quality polycarbonate, the lens is nearly indestructible and exceeds important ANSI Z87.1 industrial standards.
If you're looking for safety glasses that can deliver maximum UV protection, these products won't let you down. The non-slip rubber nose pad is very comfortable and complements the adjustable temples. The combination of these features provides all-day comfort and gives the wearer a precise fit.
The Magnum Elite safety glasses are classified as performance eyewear and can be used for a variety of industrial applications. The single lens is tough and made to withstand the toughest work conditions. Like all products that carry the Smith and Wesson™ name, the Magnum Elite® products are built to last and perform better than the alternatives. (Old part number: 5946)
Delivers excellent UV protection for your eyes

Temples are adjustable and ribbed

Non-slip rubber nose pad provides all-day comfort and precise fit

Polycarbonate lens is nearly indestructible

Exceeds ANSI Z87.1 industrial standards
SKU ~ 19830
Smith and Wesson
Magnum Elite
Infinity Blue (Teal) Lens
99.9% UV Protection
All Eyewear Meets ANSI Z87.1+ Impact Standard
SMITH & WESSON is a registered trademark of Smith & Wesson Corp. Used with Permission under License
OTHER DETAILS
UPC:
079768009563
Product UPC/EAN:
079768009563
Reviews (0)
Write a Review
Write a Review
Smith and Wesson
Smith and Wesson Magnum Elite Safety Glasses w/ Infinity Blue Lens