Description

Double Palm
Work Gloves
Size Large
The gloves on this page feature a double palm, so they're much more durable than some of the alternatives. Since these are heavy-duty work gloves, they're perfect for pipe fitting, construction and general industrial work.

They're nearly identical to our AAA Series gloves, but the difference is that they have a double palm. The other AAA Series work gloves that we carry don't have a double palm. These gloves feature a Gunn pattern and can be used for extreme work environments.

Although they're designed for the toughest applications, you can use them for gardening and agricultural work. The Kevlar® stitching is what gives these products an edge and makes them suitable for heavy-duty work. The Kevlar® fibers are incredibly strong and can resist abrasions, cuts and punctures. Adequate hand protection is important for most types of work.

Without the right protection, workers are much more likely to sustain serious injuries. In some cases, workers aren't even allowed to work if they're not wearing any hand protection. These gloves offer the perfect combination of leather and Kevlar® stitching, so they're suitable for the toughest work.
Features and Notes
Features a double palm for more protection

Gunn pattern

Kevlar® stitching for maximum durability

Recommended for pipe fitting, construction and heavy-duty applications

Made with durable, stylish leather

Notes:

Available in sizes SM-XL.
Prices shown are per dozen.
Applications:
General industrial work

Agricultural

Construction

Heavy duty applications

Pipe Fitting

Gardening/Outdoor Uses
SKU ~ 500DP-AAA-LG
Heavy Duty
Double Palm Leather Gloves
With Kevlar Stitching
(Sold by the Dozen)
Size Large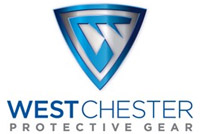 DuPont® and Kevlar®
Are trademarks or registered trademarks of E.I. du Pont de Nemours and Company or its affiliates.
OTHER DETAILS
UPC:
662909706430
Product UPC/EAN:
662909706430
Reviews (0)
Write a Review
Write a Review
Westchester
Heavy Duty Double Palm Leather Glove w/ Kevlar Stitching (Sold by Dozen) Size Large