Description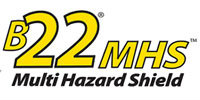 Allows maximum light transmission – applications indoor / outdoor where high light transmittance is needed.
The B22 hazard material clear side shield is designed to protect your eyes from hazards. These side shields complement the B-26+ and B-52+ universal side shields. The B-22 MHS side shields are great for several different purposes, and they're made of pliable FDA-approved polymers.
When compared with other materials, these polymers deliver much better coverage. They're also much more comfortable to wear. The B-22 MHS multi-hazard side shields are ideal for industrial, personal and medical environments, and they're designed to protect your eyes from safety hazards.
Narrow frames need more frontal and side coverage than other styles, and the B-22+ can automatically adjust to medium and large safety glasses. It can also adapt to the unique facial features of the wearer.
Unfortunately, we only carry this product with clear material, but it's a great material for most applications, and you still get the same level of protection that you'd expect from this type of product. Side shields are needed for a variety of hazardous work environments, and they're designed to provide the additional coverage that you need to keep your eyes safe.
Automatically adjusts to fit medium and large safety glasses

Ideal for the personal, industrial and medical environments

Made of FDA-approved polymers

Can adapt to your unique facial features
SKU ~ gb-B22
B22 Hazard Material
Side Shield
CLEAR

OTHER DETAILS
UPC:
702038506102
Product UPC/EAN:
702038506102
Reviews (0)
Write a Review
Write a Review
Safety Optical Service
B22 Safety Glass Side Shields with Clear Lens