Texas America Safety Company
Protective Clothing Information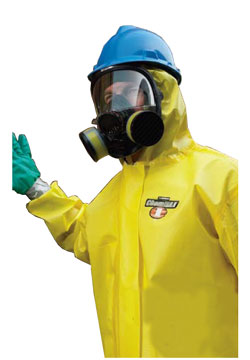 Whether you are working in a dirty environment or working with hazardous chemicals there are many times when protective clothing may be necessary. Protective clothing can protect you from harsh chemicals, infections, or simply getting your everyday clothes dirty. Protective clothing can be made to be disposable after every use, or it can be made to be used repeatedly until it is not longer useable then thrown away. This type of clothing serves a dual purpose to protect you from getting hurt or sick and to prevent your clothing from being ruined. There are many different applications for this type of disposable protective clothing; painters may use it when painting, lab employees may use it when working with infectious or hazardous materials, or they may be used when working with asbestos or any other type of hazardous materials. Food processing plants may use protective clothing to keep the environment sterile when working with the food or machinery, and general contractors may use these when working in particularly dirty or difficult spots.
What makes this type of protective clothing so nice is that is disposable, you can choose from garments that are one use only and not made for hazardous materials, this type of garment is inexpensive and perfect for companies that must provide this type of protection for their workers on a daily basis. You can also purchase one use only garments are designed specifically for working with hazardous substances, these disposable garments are made to provide protection for light splash situations and dry particulates such as lead dust, asbestos and radioactive particles. Disposable protective clothing can also be purchased that are for limited use situations, this means that you can wear them more than once, but that once they are used up they are still affordable enough that you can toss them in the garbage and get a new suit. These are great for situations where whatever materials you are working with are not overly toxic or hazardous but for which protection is still needed such as food processing with chemicals, paint spraying or pesticide handling.
Disposable protective clothing comes in many different types from lab coats to full suits that cover everything but hands, feet and face. The most commonly used ones are the standard suit and coveralls. A standard suit covers everything but has no hood, and does not have elastic around the wrists and ankles. A coverall suit has a hood and offers elastic on the hood, wrists and ankles to offer you the most complete protection from a suit. It is important to make sure that your protective clothing fits the job that you have for it, if you are working with liquid hazardous materials you may need protective clothing that offers more protection than disposable clothing does. If you are looking for a full line of protective clothing for any application look to Texas America Safety Company they offer a wide array of protective clothing as well as gloves, respirators and safety eyewear to make sure that you and your employees are properly protected on the job.
Texas America Safety Company
4400 Danhil Drive
Brownwood, TX 76801
Toll Free

1-800-646-5346
Outside US

1-325-646-5346
Local

325-646-5346
Fax

1-325-646-3790
sales@tasco-safety.com