Texas America Safety Company
Workgloves
Design Information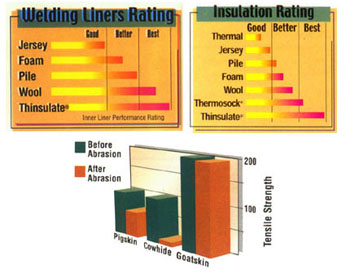 GLOVE PATTERNS
Cuff Style




Seamless palm with parallels seams on back of glove. This construction is best for cloth and light weight gloves. It is designed for a roomy fit.





Reversible Style




This style is not as form fitting but gloves fit either hand and can be turned over when palm is worn out to double the life span .





Gunn Style




Seamless back, horizontal seam in palm directly below center two fingers. This style is best for heavy duty gloves, the "Gunn" seam is in the natural crease of the hand and it is the most comfortable style.
THUMB STYLES
Straight Thumb




For closed fisted work (gripping). The seams are out of the work surface during gripping activities.





Wing Thumb




For open handed work (pushing and pulling). The seams are out of the work surface during open handed activities





Keystone Thumb




Use for same activities as wing thumb styles, but affords the strongest construction method. It is the most comfortable wearing glove.
CUFF STYLES
Cuff Styles




Cuff styles vary depending on the needs of the applications. The most common styles are: safety cuff, gauntlet cuff, band top, knit wrist and slip-on.
TYPES OF LEATHER
Cowhide:




Cow leather is the most commonly used leather within the glove industry due to it's availability. It is warmer than pigskin and goatskin and the most heat resistant.





Goatskin:




The natural Lanolin found in goat skin makes it one of the softest leathers. It is the most penetration proof of all leathers and very waterproof. This leather is highly recommended for applications requiring tactile sensitivity.





Pigskin:




Pigskin has the greatest breathability due to its porous texture. Also, pigskin tends to become softer with use and is the most waterproof. When laundered, this leather will return to its natural soft texture quicker than other leathers. It is also the most economical





Deerskin:




Known to be on of nature's most luxurious, softest leathers, providing all day comfort and sensitivity. It is the warmest of all leathers and also long wearing.
CUTS OF LEATHER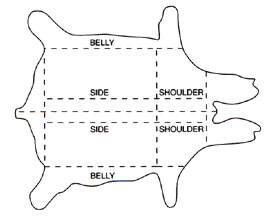 Grain




Grain leather is the smooth outside of the hide. This type of leather provides durability, dexterity, and is the most luxurious.





Split




Split leather is the rougher inside of the hide. The different types are Side, Shoulder, or Belly Split





Side Split - comes from the rib area of the animal. It is the most uniformed leather with less imperfection and the best for consumer appeal.





Shoulder Split - is more economical than side, but less durable. The additional movement of the animal in the shoulder area creates less fibers and a more visible texture difference.





Belly Split - Is the most economical; however, it has the least consistency of texture and appearance.
Texas America Safety Company
4400 Danhil Drive
Brownwood, TX 76801
Toll Free

1-800-646-5346
Outside US

1-325-646-5346
Local

325-646-5346
Fax

1-325-646-3790
sales@tasco-safety.com